Depression and anxiety are common mental health concerns both during and after pregnancy. Many symptoms of depression (insomnia, fatigue, sudden changes in weight, worsened mood) and anxiety (worry, changes with sleep and appetite) tend to be dismissed as a normal part of pregnancy where in actuality, they should be taken seriously. This is important because untreated mental disorders during pregnancy can have significant health risks to the mother and baby (to learn more click here). 
Even when the condition is recognized, many times Perinatal Mood and Anxiety Disorders (PMADs) go untreated either due to stigma or concerns over taking medication in pregnancy.  If you think you might be feeling depressed or anxious and  it feels concerning to you or it is impacting your daily functioning (sleep, appetite, relationships, work/school), scroll down to the Resources Section for trustworthy links to learn more. Talk to your OB, midwife or another health care provider- you deserve a thorough assessment and someone who will listen carefully.
Why do we need to study complementary and/or alternative treatments to medication for depression and anxiety during pregnancy?
The most common methods of treatment for mental disorders are medication and/or some form of psychotherapy, however it's important to study other treatments that may be used either alongside these treatments or as an alternative.
Many people either feel hesitant to take medication during pregnancy, have tried medication but find they can't tolerate the side effects, or they might find that medications are helpful but they desire additional support. Untreated anxiety or depression during pregnancy or postpartum can impact both the parent AND the baby, so weighing the risks and rewards for each parent is important and should be a conversation between you and your healthcare provider.
Similarly, some people might find that psychotherapy is helpful but they want to try something else to try and make further progress.
According to a 2013 study regarding depression (2), the most common alternatives offered to medication include psychotherapy, hypnosis, yoga, acupuncture, vitamins and supplements, relaxation and mindfulness techniques and bright light therapy. We need to study these methods to find out which ones are most likely to help.
What does the research say about acupuncture for depression and anxiety during pregnancy?
In this summary, I will give a quick overview of the existing research on acupuncture for depression and anxiety disorders during pregnancy. Additionally I'll describe the small amount of research looking at acupuncture for postpartum depression as well as about acupuncture for depression and anxiety in the general population (men and women who aren't pregnant). 
If you would like general information about the safety of acupuncture during pregnancy, please visit the safety section.
Acupuncture for Depression During Pregnancy
Although the data at this point is very limited, studies show acupuncture may be beneficial and is a safe, well-tolerated treatment during pregnancy. Two Systematic Reviews (SR's, which group and analyze the data from many individual studies) have been conducted (1, 4). Both looked at the same two Randomized Controlled Trials (RCT) (2, 3). They concluded that overall there isn't enough evidence to conclusively say whether or not acupuncture is an effective treatment for depression in pregnancy, but that there is some evidence of benefit and that further studies are needed.
One small trial from Brazil (5) included women experiencing depression as well as anxiety and irritability. Although it was a very small study and we need more data, the researchers did find women who had acupuncture treatment experienced improved mood, sleep and relationships, and no serious adverse effects were reported.
A small study out of Australia with 57 participants (6) in 2020 found that depression scores were significantly lower among women who had received Acupuncture + treatment as usual (TAU) when compared compared to those who had weekly Progressive Muscle Relaxation sessions or TAU; additionally, stress and psychological distress were significantly lower in this group.
Two qualitative studies have been conducted. A qualitative study means the researchers interviewed people and looked for common themes in their responses. In the first study (7), healthcare providers were interviewed and expressed a general openness to using acupuncture for depression during pregnancy provided there was evidence of safety and effectiveness. The second qualitative study (9) found that women who received acupuncture as part of the 2020 Australian study (6) reported "cumulative and ongoing relief from symptoms", and "in addition to relaxation, all participants described other beneficial effects such as refreshment, calmness, an enhanced ability to cope and increased positivity and motivation". 
Acupuncture for Postpartum Depression
We do have a bit more data on acupuncture for treatment of postpartum depression (10, 11). Two Systematic Reviews were conducted mostly looking at studies performed in China, and both concluded that acupuncture resulted in a larger "Effectiveness Rate" (defined as "recovery to normal mental status"). Many of these studies used acupuncture in combination with another modality such as psychotherapy or other East Asian Medicine therapies, so it may be that this contributes to the benefit that postpartum people experienced. 
Acupuncture for Depression in the General Population
There are significantly more studies examining acupuncture for depression in the general population as compared to strictly for pregnant people. Several Systematic Reviews (which group and analyze the data from many individual studies) have been performed. One Cochrane Review (11) looked at 64 studies and concluded that when comparing people getting acupuncture to people getting no treatment or "treatment as usual", acupuncture may result in a moderate reduction in symptoms of depression. We need more studies to make firm treatment recommendations.
A different Systematic Review performed in 2019 (12) found that acupuncture treatments resulted in a clinically significant reduction in the severity of depression when compared with usual care, sham acupuncture and when used alongside antidepressant medication. They also found that when the study called for more frequent acupuncture treatments as well as more acupuncture treatments overall, people experienced greater improvement. 
Acupuncture for Anxiety
Unfortunately at this time there are no notable studies looking at the effect of acupuncture on anxiety disorders specifically either during or after pregnancy. We do, however, have some studies regarding acupuncture for anxiety in the general population. One recent review of 20 studies (1823 patients) looking at acupuncture for Generalized Anxiety Disorder (GAD) suggests acupuncture may have a benefit in improving symptoms and that it is a safe and well-tolerated treatment (13). It is possible the results of these studies can be generalized to pregnant or postpartum patients with GAD, but several large, well-designed studies are needed to confirm this.
In the review (13), researchers pooled data from 20 studies and compared those having acupuncture for more than 6 weeks or less than 6 weeks. Both groups of participants experienced a reduction in anxiety symptoms, but the group which had acupuncture for less than 6 weeks experienced greater benefit. The researchers suggested one possible explanation would be since medications generally take over 6 weeks to confer significant benefit, acupuncture may be helpful in improving symptoms more quickly and may "improve the first 6 weeks of the course of treatment". After 6 weeks, there was no difference between acupuncture and medication groups.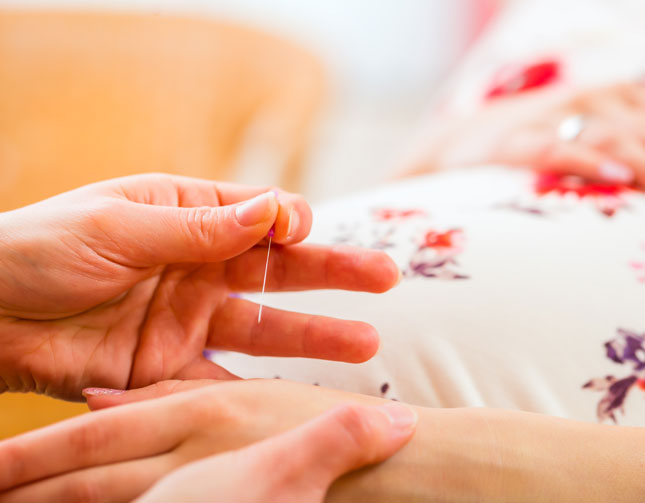 Who would be a good candidate for acupuncture treatments?
You are working with your physician to discontinue or reduce medication dosage and are looking for a treatment (possibly in addition to psychotherapy) that might help ease the transition and provide additional support 

You are taking medication and/or working with a therapist, but would like to do something to further improve your symptoms

Medication or psychotherapy aren't a good fit for you, but you would like to try something to help your condition 
**Above all, if you're pregnant and think you might be depressed, your OB or midwife needs to know. Acupuncture can be a valuable part of your treatment plan, but it is not a replacement for care with a mental health specialist. **
Resource Links
Chart: Understanding Perinatal Mood Issues- When Is It A Problem? Dr Julie Bindeman
Postpartum Support International: an excellent source for learning more about symptoms of depression, anxiety and other mental health conditions during and after pregnancy. Also provides free support line in English and Spanish for those based in the USA
Postpartum Resource Center of NY: a great local resource for people in NY State
MGH Center for Women's Mental Health: excellent resource including for reproductive psychiatry
PaNDAS - Perinatal Mental Health informational resource as well as free support line for those based in the UK
Health Navigator- Information and resources with links to free, anonymous self-assessment tests for anxiety and depression. Free support line and text for those based in New Zealand
The Motherhood Center: NYC- based clinic specializing in treatment of Perinatal Mood and Anxiety Disorders
Action on Postpartum Psychosis- site dedicated to Postpartum Psychosis education, resources and support. Based in the UK
Screening Tools for Anxiety and Depression
Disclaimer: these aren't "tests" for depression or anxiety, they are just screenings. A diagnosis and proper evaluation can only be made by a mental health professional. If you would like to be evaluated or seek treatment for a mental health concern, please consult with a professional for a full evaluation. The author of this article is not a mental health professional and is not providing mental health advice on this website.
PHQ-9 Test- Depression
Kessler-10 Test- General Psychological Distress, anxiety or depression
EPDS Self-Assessment Test- Depression
Crisis Hotlines and Suicide Prevention
NYC Well: For mental health crisis/support/and/or suicidal thoughts
Sources
Dennis CL, Dowswell T. Interventions (other than pharmacological, psychosocial or psychological) for treating antenatal depression. Cochrane Database of Systematic Reviews 2013, Issue 7. Art. No.: CD006795. DOI:

10.1002/14651858.CD006795.pub3

.

Manber R, Schnyer RN, Allen JJ, Rush AJ, Blasey CM. Acupuncture: a promising treatment for depression during pregnancy. J Affect Disord. 2004 Nov 15;83(1):89-95. doi: 10.1016/j.jad.2004.05.009. PMID: 15546651.

Manber R, Schnyer RN, Lyell D, Chambers AS, Caughey AB, Druzin M, Carlyle E, Celio C, Gress JL, Huang MI, Kalista T, Martin-Okada R, Allen JJB. Acupuncture for depression during pregnancy: a randomized controlled trial. Obstet Gynecol. 2010 Mar;115(3):511-520. doi: 10.1097/AOG.0b013e3181cc0816. PMID: 20177281.
Smith CA, Shewamene Z, Galbally M, Schmied V, Dahlen H. The effect of complementary medicines and therapies on maternal anxiety and depression in pregnancy: A systematic review and meta-analysis. J Affect Disord. 2019 Feb 15;245:428-439. doi: 10.1016/j.jad.2018.11.054. Epub 2018 Nov 6. PMID: 30423471.

Bosco Guerreiro da Silva J. Acupuncture for mild to moderate emotional complaints in pregnancy--a prospective, quasi-randomised, controlled study. Acupunct Med. 2007 Sep;25(3):65-71. doi: 10.1136/aim.25.3.65. PMID: 17906599.

Ormsby SM, Smith CA, Dahlen HG, Hay PJ. The feasibility of acupuncture as an adjunct intervention for antenatal depression: a pragmatic randomised controlled trial. J Affect Disord. 2020 Oct 1;275:82-93. doi: 10.1016/j.jad.2020.05.089. Epub 2020 May 24. PMID: 32658830.

Ormsby SM, Dahlen HG, Ee CC, Keedle H, Smith CA. 'Acupuncture for antenatal depression: It's worth giving it a go' - A qualitative study. Women Birth. 2018 Jun;31(3):166-176. doi: 10.1016/j.wombi.2017.09.018. Epub 2017 Sep 29. PMID: 28966129.

S.M. Ormsby, et al., Women's experiences of having depression during pregnancy and receiving acupuncture treatment—A qualitative study, Women Birth (2017),

https://doi.org/10.1016/j.wombi.2017.10.009

Li S, Zhong W, Peng W, Jiang G. Effectiveness of acupuncture in postpartum depression: a systematic review and meta-analysis. Acupunct Med. 2018 Oct;36(5):295-301. doi: 10.1136/acupmed-2017-011530. Epub 2018 Jun 15. PMID: 29907576.

Tong P, Dong LP, Yang Y, Shi YH, Sun T, Bo P. Traditional Chinese acupuncture and postpartum depression: A systematic review and meta-analysis. J Chin Med Assoc. 2019 Sep;82(9):719-726. doi: 10.1097/JCMA.0000000000000140. PMID: 31259837.

Smith CA, Armour M, Lee MS, Wang LQ, Hay PJ. Acupuncture for depression. Cochrane Database of Systematic Reviews 2018, Issue 3. Art. No.: CD004046. DOI: 10.1002/14651858.CD004046.pub4.

Armour M, Smith CA, Wang LQ, Naidoo D, Yang GY, MacPherson H, Lee MS, Hay P. Acupuncture for Depression: A Systematic Review and Meta-Analysis. J Clin Med. 2019 Jul 31;8(8):1140. doi: 10.3390/jcm8081140. PMID: 31370200; PMCID: PMC6722678.

Yang, X. Y., Yang, N. B., Huang, F. F., Ren, S., & Li, Z. J. (2021). Effectiveness of acupuncture on anxiety disorder: a systematic review and meta-analysis of randomised controlled trials. Annals of general psychiatry, 20(1), 9. https://doi.org/10.1186/s12991-021-00327-5

van Ravesteyn LM, Lambregtse-van den Berg MP, Hoogendijk WJ, Kamperman AM. Interventions to treat mental disorders during pregnancy: A systematic review and multiple treatment meta-analysis. PLoS One. 2017;12(3):e0173397. Published 2017 Mar 30. doi:10.1371/journal.pone.0173397
+