This article was co-authored by Sarah Tewhey, L.Ac., acupuncturist, herbalist and doula
Threatened Miscarriage is defined as bleeding or spotting during the first 20 weeks of pregnancy when the cervix is closed and the embryo or fetus remains alive.  Threatened miscarriage occurs in approximately one in four pregnancies (1). Although not all bleeding in early pregnancy results in loss, it is associated with a higher risk for pregnancy loss and further pregnancy complications (2). Heavier bleeding is connected to a higher risk of loss (1) .  
There are detailed guidelines for clinical care when someone has bleeding in early pregnancy (3) however at this time there are no treatments that have been shown to make a meaningful difference in halting the bleeding or increasing the chances of having a full-term pregnancy. Lifestyle advice such as bed rest and medical treatment such as HCG administration have not been found to be effective (4,5). For those with bleeding in early pregnancy and a history of one or more miscarriages, vaginal progestogens may help, with one large study showing they improve rates of live birth by about 8% (6). For those with bleeding but without any previous miscarriages, progestogen treatment has not been found to change rates of pregnancy loss (6).  
Although bleeding can be a sign of miscarriage and is understandably concerning to pregnant people, not all bleeding in pregnancy results in loss. Considering the lack of proven treatments for threatened miscarriage and the distress, anxiety and depression that it may create (7), there is a need for ongoing research into treatment options and supportive care for threatened miscarriage. These options should not only include medical treatment, but additionally compassionate, supportive care therapies which may potentially reduce symptoms and buffer the negative impact on parents' mental health.
Discussion on Acupuncture Evidence
At this time there has been one small randomized trial (40 participants) looking at the use of acupuncture for threatened miscarriage. This study enrolled individuals experiencing bleeding in early pregnancy and compared those receiving acupuncture and medical self-care advice to those receiving touch therapy and medical self-care advice.  This was a mixed methods pragmatic study, meaning the treatments were performed in a similar way as they might be in real-life clinical practice. Each person was treated based on an individualized, East Asian Medicine differential diagnosis rather than a standardized treatment for all participants.  The study assessed clinical outcomes and additionally gathered information on physical and emotional well-being via interviews with participants about their experiences as they completed the trial. (8). 
While the study was not large enough to make definitive conclusions, those in the acupuncture group reported a significant reduction in the physical symptoms of threatened miscarriage such as cramping, bleeding and lower back pain. There was no difference in miscarriage rates between the two groups and no difference in rates of stillbirth or pregnancy complications.
In this study, both the acupuncture group and the light touch groups reported improvements in their stress and anxiety levels.They reported dissatisfaction and frustration in being told by their doctor or nurse that there was nothing they could do and the advice to "just wait and see". The supportive care techniques gave the women a sense of being able to participate in their care and find something they could do.  Additionally, participants found it helpful to talk to someone knowledgeable who took the time to listen and understand their experiences. These women had two sessions in the first week followed by one session weekly until reaching 12 weeks' gestation.
Acupuncture and East Asian Medicine may serve as a form of supportive care that might reduce anxiety and provide a sense of proactive involvement during bleeding in pregnancy. Preliminary evidence shows acupuncture may also provide the additional, unique benefit of decreasing distressing symptoms of bleeding, cramping and lower back pain. Larger studies are needed to determine whether it has the potential to improve pregnancy outcomes. 
Additionally, individuals whose pregnancies continue once symptoms of threatened miscarriage resolve may experience increased anxiety throughout the remainder of the pregnancy and are also at higher risk for other complications such as PPROM, preterm delivery and antepartum hemorrhage (2, 9). Although there are a lack of formal studies at this time, there may be the potential for acupuncture and East Asian Medicine therapies to provide ongoing support and stress management for patients who experience threatened miscarriage and go on to carry their babies to term.
Discussion on Supportive Care
Supportive Care is characterized partially by the capability of healthcare professionals to take additional time to listen, educate and to be emotionally sensitive to those they serve. Additionally these patients typically receive additional early monitoring and ultrasounds. (10)
Supportive Care as an intervention for recurrent miscarriage has been studied and is recommended for those experiencing multiple pregnancy losses (10).  This approach has been shown in interviews and surveys to be preferred by patients. Additionally, some studies show higher rates of healthy pregnancies resulting in live births with this type of care (11,12,13).
While threatened miscarriage and recurrent pregnancy loss are different, there are similarities in what these two populations may experience physically and emotionally. Both groups are at a significantly increased risk for depression and anxiety (7,14,15). Because research into supportive care for threatened miscarriage is limited, we can look to the existing research on supportive care for recurrent pregnancy loss for insight into what might be helpful for the threatened miscarriage population.
Can Acupuncture Serve As a Form of Supportive Care?
Regular acupuncture may serve as a form of supportive care as shown in the 2016 study by Betts et al. (8). Additionally we know that acupuncture may be useful for depression during pregnancy and anxiety in the general population (link). While specific early pregnancy units offering Supportive Care exist in some hospitals, most healthcare systems are overburdened and physicians lack the time and resources needed to provide this style of care. Betts 2016 showed that physicians are willing to refer patients to acupuncture care and that patients report physical and emotional benefits to receiving treatment during threatened miscarriage. In this way, acupuncturists and East Asian Medicine providers may be uniquely poised to create an environment of proactive supportive care for those experiencing threatened miscarriage, while also providing a treatment that helps to alleviate troubling symptoms.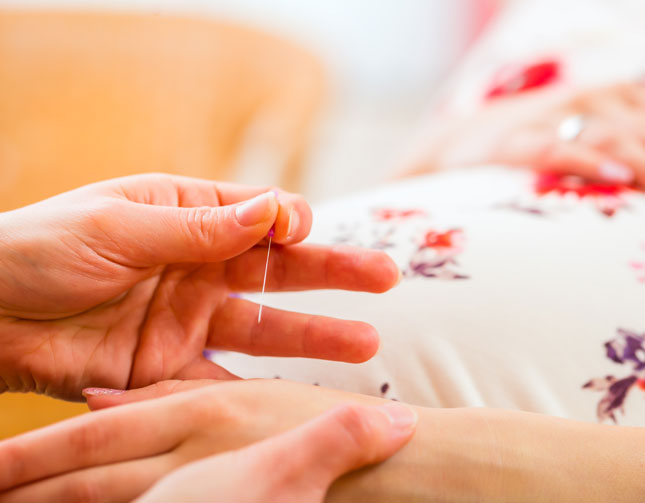 What might an acupuncture session be like for Threatened Miscarriage?
Your acupuncturist will start by taking a thorough health history as well as asking questions about your pregnancy and the bleeding you are experiencing. Many times they will also feel your pulse and look at your tongue as part of the diagnostic process. The acupuncture treatment itself varies depending on the practitioner and their particular style of acupuncture, but normally the needles are inserted and additional therapies such as moxibustion, acupressure or light massage may be included. Patients normally feel a sense of relaxation and well-being afterwards. You may also be sent home with individualized dietary or lifestyle recommendations.
How Do I Know Acupuncture is Safe in Pregnancy?
When performed by a licensed acupuncturist with experience treating pregnant patients, we have studies that show acupuncture is very safe. Acupuncture needles are single-use and sterile. Studies show that any side-effects are minor and short-lived. Many studies have tracked women and their babies' health through pregnancy and after delivery and have consistently found that women who had acupuncture have the same pregnancy outcomes when compared with those who did not have acupuncture. For more information on this topic, please visit the page on safety.
Sources
Hasan R, Baird DD, Herring AH, Olshan AF, Jonsson Funk ML, Hartmann KE. Association between first-trimester vaginal bleeding and miscarriage. Obstetrics & Gynecology. 2009;114(4):860–7.  

Saraswat L, Bhattacharya S, Maheshwari A, Bhattacharya S. Maternal and perinatal outcome in women with threatened miscarriage in the first trimester: A systematic review. BJOG: An International Journal of Obstetrics & Gynaecology. 2009;117(3):245–57.  

Hendriks E, MacNaughton H, MacKenzie MC. First Trimester Bleeding: Evaluation and Management. Am Fam Physician. 2019 Feb 1;99(3):166-174. PMID: 30702252.
Aleman A, Althabe F, Belizán JM, Bergel E. Bed rest during pregnancy for preventing miscarriage. Cochrane Database of Systematic Reviews. 2005;2010(10).  

Devaseelan P, Fogarty PP, Regan L. Human chorionic gonadotrophin for threatened miscarriage. Cochrane Database of Systematic Reviews. 2010;  

Devall AJ, Papadopoulou A, Podesek M, Haas DM, Price MJ, Coomarasamy A, et al. Progestogens for preventing miscarriage: A network meta-analysis. Cochrane Database of Systematic Reviews. 2021;2021(4).  

Zhu CS, Tan TC, Chen HY, Malhotra R, Allen JC, Østbye T. Threatened miscarriage and depressive and anxiety symptoms among women and partners in early pregnancy. Journal of Affective Disorders. 2018;237:1–9.  

Betts D, Smith CA, Dahlen HG. Does acupuncture have a role in the treatment of threatened miscarriage? findings from a feasibility randomised trial and semi-structured participant interviews. BMC Pregnancy and Childbirth. 2016;16(1).  

Dadkhah F, Kashanian M, Eliasi G. A comparison between the pregnancy outcome in women both with or without threatened abortion. Early Human Development. 2010;86(3):193–6.  

 Bender Atik R, Christiansen OB, Elson J, Kolte AM, Lewis S, Middeldorp S, et al. Eshre guideline: Recurrent pregnancy loss. Human Reproduction Open. 2018;2018(2).  

Stray-Pedersen B, Stray-Pedersen S. Etiologic factors and subsequent reproductive performance in 195 couples with a prior history of habitual abortion. American Journal of Obstetrics and Gynecology. 1984;148(2):140–6.  
+